Try the Best Coffee in Boston
CUPPACOFFEE will be serving the freshest:
Espresso based coffees
Drip coffee
Iced coffee
Tea
Meat pies
Other Aussie delicacies
Bulfinch triangle mobile coffee
Have a true coffee break in the office, our coffee bar staff arrive at your office with the coffee already brewed and stored in our Cuppacoffee backpack dispenser.
No mess, no clean up, no need to to see dirty coffee cups in the sink. (the cup that everyone denies that they left)
Click here to get Cuppacoffee to call you to explain the program.
Red Barn Coffee roasters

With more than 30 years experience, Red Barn Coffee produces its coffee by selecting only the finest coffee beans from around the world.
Harney & Sons


Producing the finest tea for the finest people for nearly 30 years.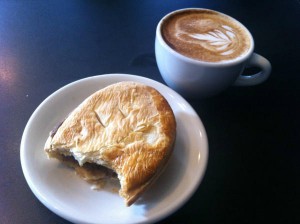 Featuring Dub Pies Boston The Classic Aussie Meat Pie
CUPPACOFFEE introduces to the Boston Market DUB Pies. We feature Gourmet Aussie meat pies and sausage rolls. DUB Menu